Condos dominate Southeast Asia. The reason for this is simple. Most people live and work in large cities where space comes at a premium. Creating a space that feels like a unique home can be difficult, but these 2019 interior design trends for condos give you the chance to bring a fresh look to your unit.
This isn't to say you should follow each and every one of them. In fact, you most definitely shouldn't unless your goal is to create colour clashing condo chaos. But picking one of two of these tips can bring your condo to life in 2019.
Don't miss these 2019 interior design trends for condos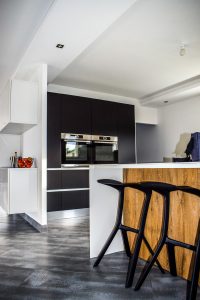 Black kitchens
Some new condo buildings are coming equipped with black kitchens featuring gold accents and 2019 will see more people adopt this look on their own. A black kitchen offers a luxurious look that feels sleek and new. You don't need to go entirely black. Mixing the room with white, gold or wood can keep things from being too dark.
A black kitchen can also be more practical. After all, think of how much time you've spent wiping down white cabinets, fixtures and kitchen appliances. Black does a good job of concealing this everyday wear and tear.
Handmade wooden pieces
These have become a staple of cool coffee shops in Bangkok, Manila, Singapore, Ho Chi Minh City and just about every other Southeast Asian metropolis. They are different and help people feel a connection to nature. And in 2019, handmade wooden pieces are going to be coming to more homes.
A couple of these add a rustic, charming look to any condo. Many units can look sterile or boring, but a couple of handmade wooden tables add some much needed character.
Curved sofas
The days of angular sofas in condos will stay in 2018. That's because 2019 will see the trend move to couches featuring softer curves. These work especially well in smaller studio or one-bedroom condo units where limited space means you might run into the pointy end of that angular sofa in the dark.
Peak cactus season
Cacti were everywhere in 2018 and this will likely carry over into this year. It's easy to see why these prickly plants will be one of the 2019 interior design trends for condos. They add a nice splash of green to any room, look cool and require little attention. Shelves and small tables are perfect for a small cactus. You may also consider adding a cactus or two to the bathroom sink to for some extra flair.
A small move away from minimal
Minimalist designs have become a hallmark of condo interiors. The style maximises space in what can be a small area. This year won't see a full blown shift to maximal interior designs, but one of the 2019 interior design trends for condos we're watching is the addition of comfort pieces to minimal interiors. For example, placing big pillows on a couch or introducing padded dining room chairs brings much needed comfort to a condo without making it feel cluttered.